Pastoral Counseling is focused on applying biblical truth and counseling techniques to help people navigate the interplay between difficult circumstances and he
art responses. Together we explore the past hurts, discovering the areas that need healing and invite God into the process of healing. A Pastoral Counsel is not a licensed Clinical Counselor.
Pastoral Coaching is a vehicle of ministry that is focused on helping people who are motivated to continually grow in their spiritual journey and develop personally, professionally and relationally.
Everyone has a story to tell and sometimes we find ourselves stuck in our journey. Whether it be looking back through Pastoral Counseling or motivation to move forward with a Pastoral Coach, finding a safe place to tell one's story is vital for writing the next chapter.
Do you need a place of refuge from the effects of fear, worries, stress, emotional hurt, forgiveness and anger? Are you struggling with guilt, fear, regret, divorce, retirement, grief or loss? Are you part of a military family, a missionary, or an expat in transition?
Crescent Oasis is a place to experience grace in the midst of life circumstances, so that one can find healing and motivation to keep growing. No matter what season of life you find yourself in, you may need some help along the way.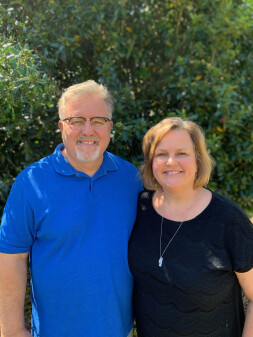 Jody and Rhonda Failoni have four beautiful children and three grandchildren. Following God's call on their lives, they have served as missionaries and educators in China and the United Arab Emirates. These rich experiences allowed them to understand the stresses, transitions, losses and the adaptations needed for anyone to thrive in life's demands.
Rhonda is a graduate of Columbia International University and holds a M.A. in Pastoral Counseling and Spiritual Formation. In 2016, God put it on her heart to open Crescent Oasis. She provides Pastoral Counseling and Spiritual Formation to those who need help and desire to grow. Her passion is to come alongside those who are hurting, while inviting God into the healing process. She believes as people discover truth for themselves, they will experience God's desire to transform wounded areas and use it for His glory.
Jody has a M.A. in Education, M.A. in Teaching from Columbia International University and has been ordained in ministry. He has nearly thirty-five years serving in ministry in a variety of roles here in the USA and internationally. Through Crescent Oasis, Jody shares his passion to coach and counsel others to become all that God wants them to be. He desires to empower others so that they can live in a godly manner worthy of their calling.
At Crescent Oasis, Jody and Rhonda individually counsel and coach others in their spiritual journey. Collectively as a team, Jody and Rhonda together offer marriage counseling. They desire to help couples grow in their marriage and parenting skills by providing them with resources needed to navigate through obstacles in life.